A rocket launch pad is an important part of extraterrestrial travel. In order to use a rocket, you must place a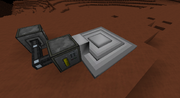 3x3 square of launch pads and right click with a rocket in your hand. You must then right-click the rocket and press the space bar to initiate launch if your rocket is fueled. If not, you must refine oil into fuel using a Refinery and load the fuel into the rocket by using a Fuel Loader connected to the launch pad. The launch pad does not change from planet to planet.
( ͡° ͜ʖ ͡°). (☭ ͜ʖ ☭). (ᴗ ͜ʖ ᴗ). ( ° ͜ʖ °). (⟃ ͜ʖ ⟄). ( ‾ ʖ̫ ‾). (͠≖ ͜ʖ͠≖). ( ͡° ʖ̯ ͡°). ʕ ͡° ʖ̯ ͡°ʔ.